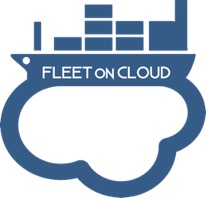 A powerful tool to support fleet management
FleetOnCloud offers a new approach to the management of "shipping operations" by best combining ship-generated data with decision support and predictive tools in the Cloud, with the aim of maximizing efficiency and safety of navigation.
Thanks to FleetOnCloud, it is possible to acquire in real time the information needed to evaluate fleet performance and continuously improve voyage economics by integrating on-board data with land, weather and third-party data.
Using the platform's tools, the control centre operators will be able to have a complete visibility of the ship's operations, displaying the screens of the main navigation equipment, to give maximum support even in emergency situations.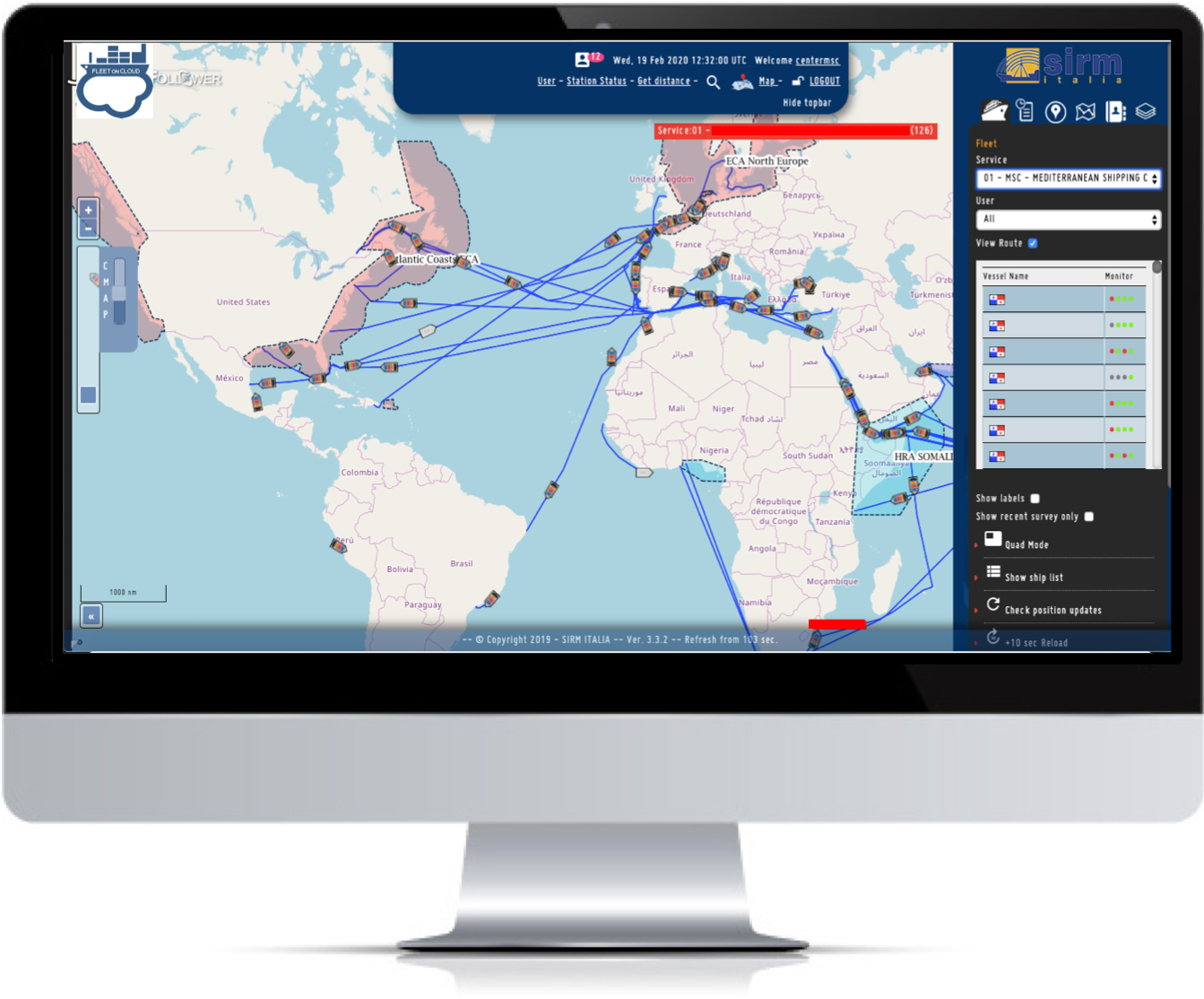 Automatic Data Collection



Detect Real-Time Anomalies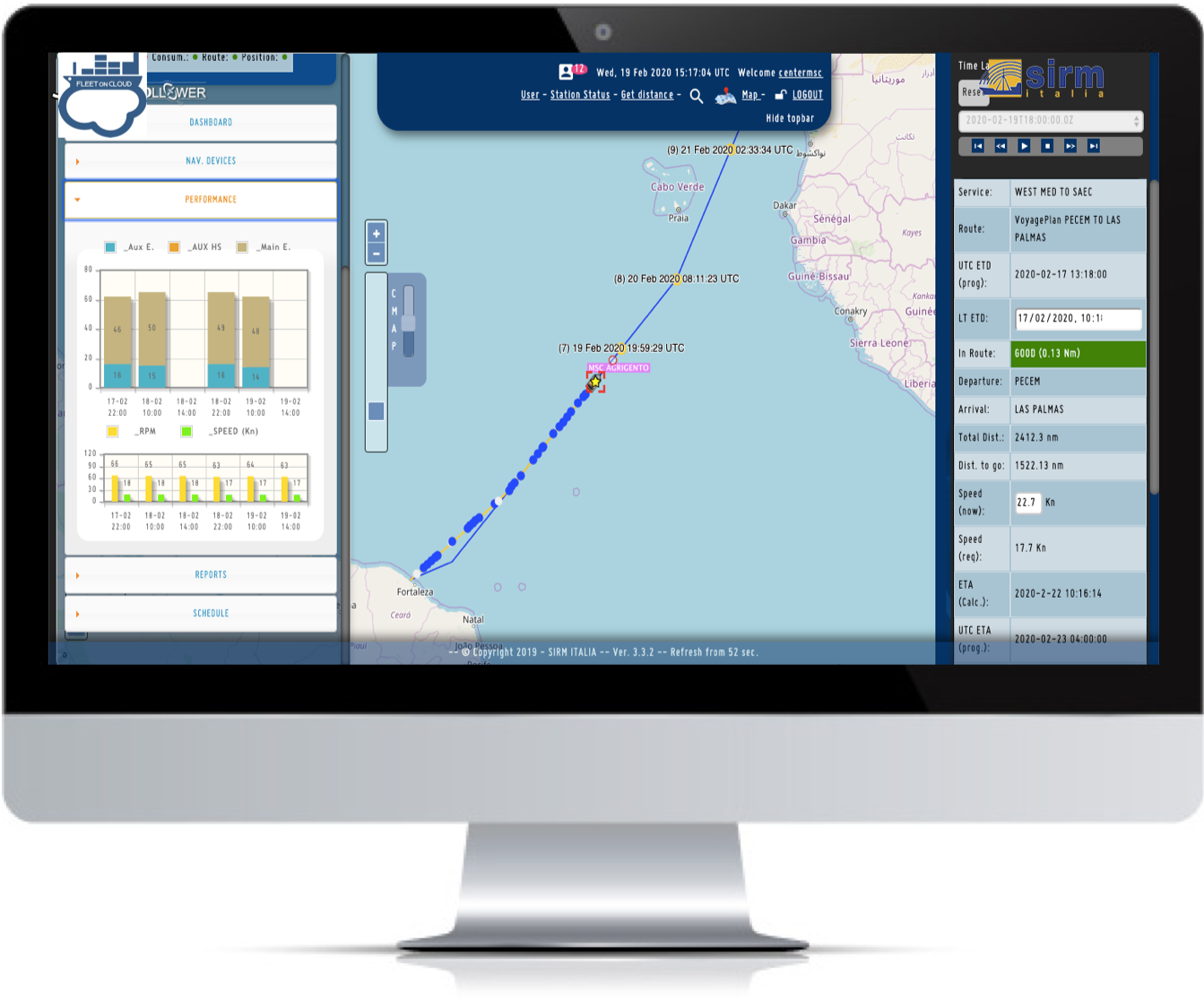 FleetOnCloud offers a powerful decision support tool that can help your decision making processes:
fuel consumption control
reduction of emissions
reduction in operating costs
increasing navigation safety
accurate and solid analysis of ship performances
advanced services for the route management
data driven performances
FleetOnCloud® simplifies the roadmap to a connected and smart ship
Smart Alerts and Event Tracking 
FleetOnCloud not only offers complete visibility of fleet performance, it also provides a powerful collaboration and control tool to simplify operations management. FleetOnCloud, through a notification system, allows you to know all the main events of the navigation (ECA input/output, off-route, overspeed/underspeed, exceeding consumption thresholds, etc.). All the main information can be consulted in real time or with historical summary graphs.
FleetOnCloud is the only platform that allows complete visibility of the bridge from the ground offices, with real-time display of the Radar, Ecdis, Conning.e Automazione screen, allowing ground and on-board teams to collaborate to manage any emergency situations.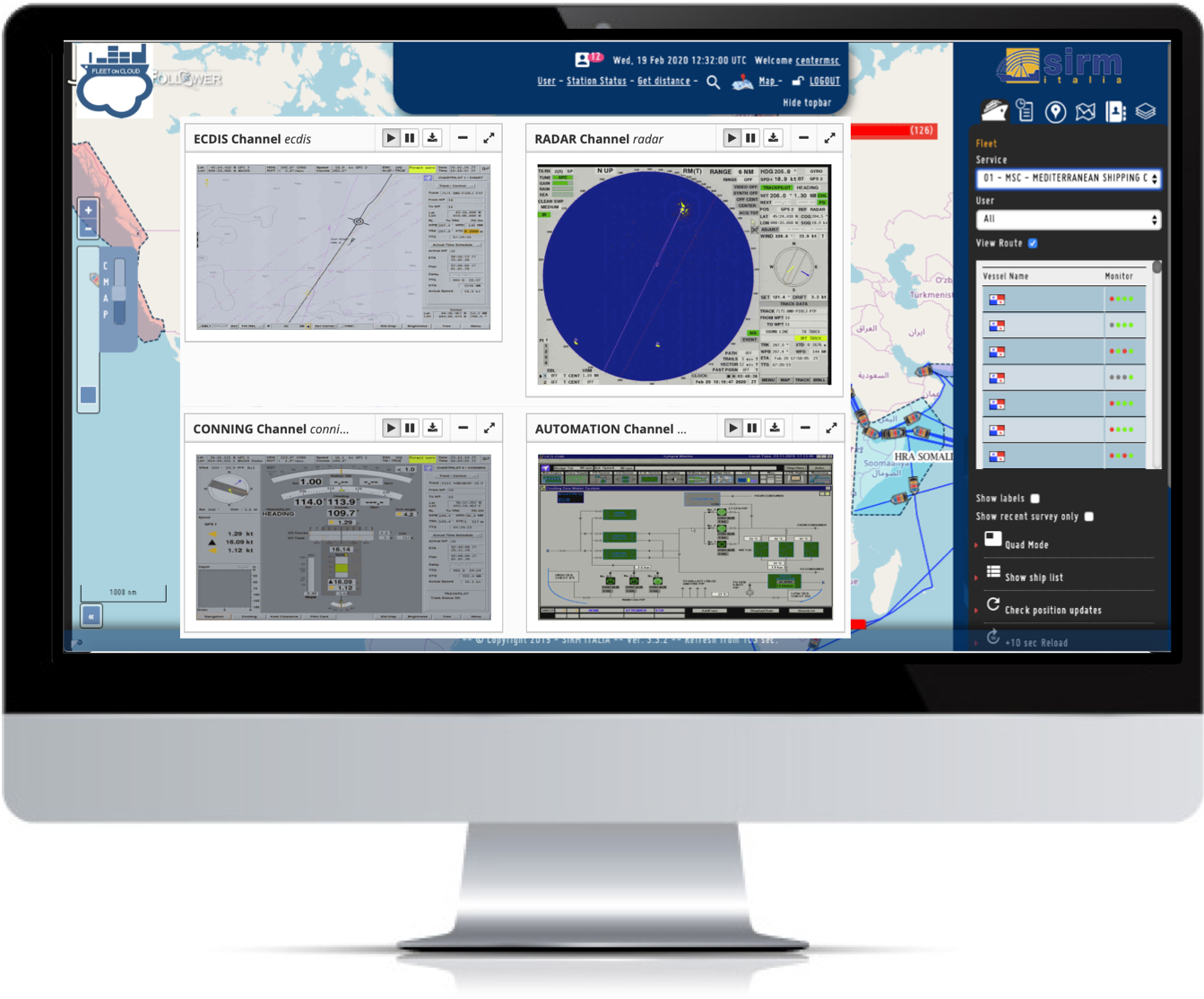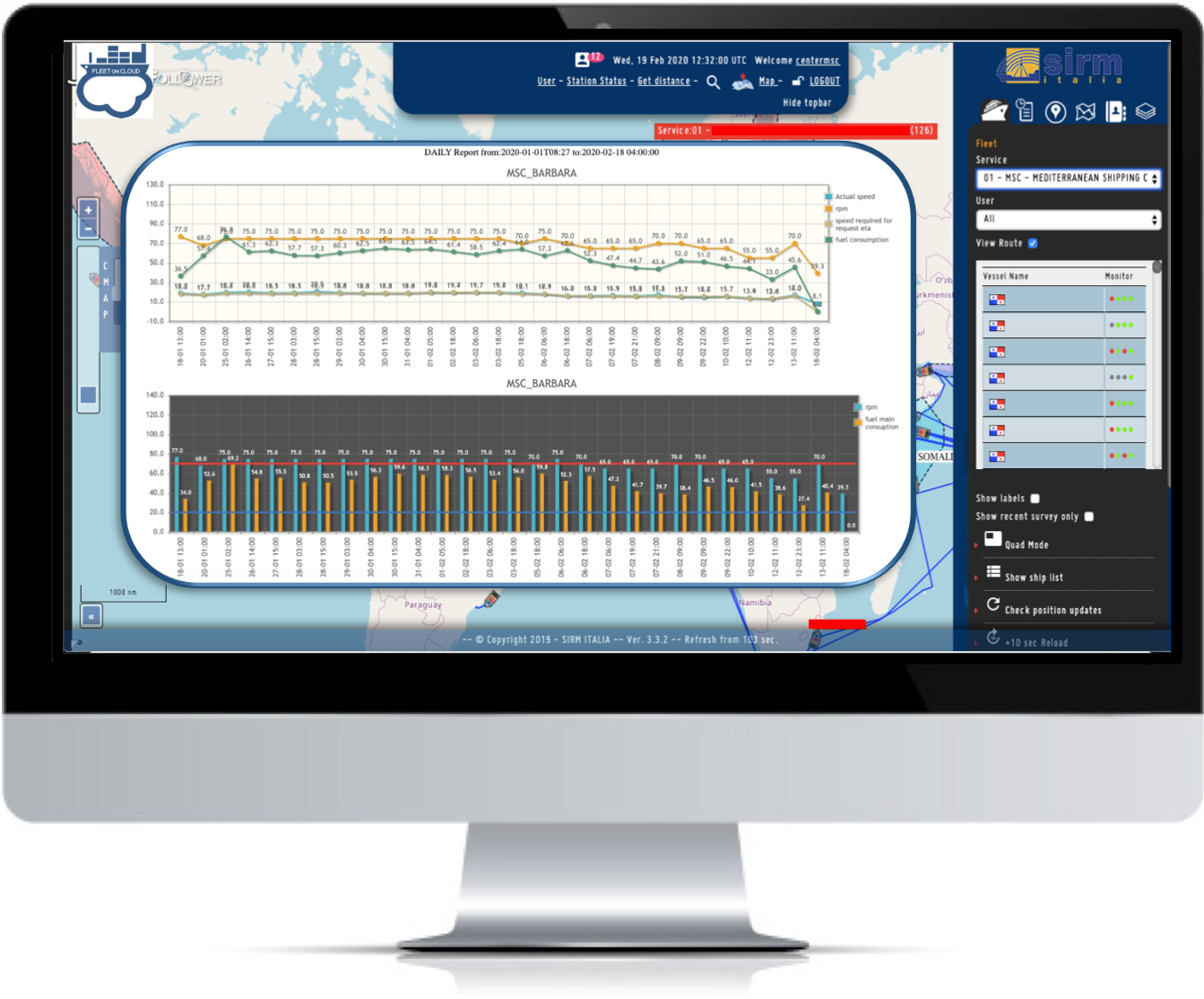 Predictive analysis and decision support
Data processing enables FleetOnCloud to offer decision support tools to keep costs under control and to improve management efficiency and effectiveness. FleetOnCloud ensures a positive impact on ROI by offering analytics tools to analyze performance profiles and KPIs for each individual vessel in the fleet to optimize their use in the medium and long term and maximize profitability. The platform allows you to:
Understand and act on performance trends
Optimise all current and future trips
Insights into the performance profile of each vessel
Know how the units in the fleet operate under various operating conditions

FleetOnCloud allows shipowners to make data-based decisions to better manage operations from shore-based offices.

Constant and continuous access to every ship in the fleet to control the main parameters that affect fleet performance and to display the displays of the on-board automation and navigation systems.

Ability to use real time data to support remote diagnostic operations or to optimize routes and operations.
FleetOnCloud®: a cloud-based infrastructure that can scale according to customer needs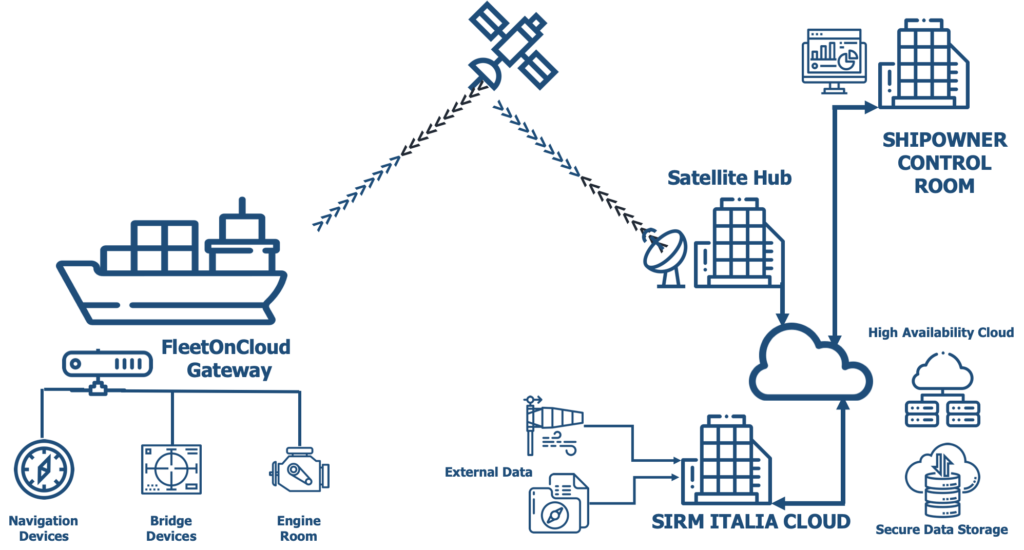 1 – On board Ship
The FleetOnCloud Gateway collects all raw data via LAN or serial connection, interfacing navigation and automation equipment and stores it locally in a secure and encrypted manner. The data can be stored on board for a minimum of 12 months and can only be accessed by authorized personnel via the cloud platform. FleetOnCloud also allows manual data input through automatic processing of all navigation reports (noon, daily, etc.).
2 – Data Transfer
The compressed and encrypted data is retransmitted to the ground on a secure internet channel using a standard IOT protocol and with SSL/TLS security levels, the industry standard for financial services and healthcare companies, via the existing satellite connection. The FleetOnCloud Gateway is able to optimize the data according to the channel used (VSAT or MSS) and to define the transmission interval based on the specific needs of the control center operators.
3 – In the Cloud
The cloud platform stores all data through cloud storage, with the highest levels of security and reliability. Data is processed by our cloud algorithms, with the ability to scale the architecture according to specific customer needs, and made available only to authorized users. FleetOnCloud automatically captures and stores data from a large number of on-board systems and devices in real time and ensures compatibility with a large number of devices through the use of standard interfaces.  The large number of variables managed by the platform allows a complete vision and analysis of the main events and risks of navigation.
4 – Access to information
All the information, collected in synthetic analysis dashboards, is accessible in a very simple way from a simple web browser connected to an internet connection.
Why choose FleetOnCloud® for fleet monitoring?
FleetOnCloud is based on a VSAT/FBB satellite communication architecture that is prioritised by the FleetOnCloud Connect multi-channel communication gateway. The flexibility of the system allows services to be made available with any existing communication architecture, even if not provided by SIRM, minimizing the impact of additional traffic on the efficiency of the communication channel.
Other FleetOnCloud® platform solutions
On-board gateway for FleetOnCloud services, for multi-channel communication in the maritime environment and for on-board network management
Solution for the integrated management of operations (fleet tracking, management & control) based on the collection and processing of navigation data.
CrewONE is a solution for both voice and data services for crew and prepaid passengers, also in BYOD (bring your own device) logic.
Cloud solution, designed for satellite use, to simplify the management of corporate and personal email service on board ships.
Position Reports Collected